The Voices of IRIS Depend on You!
All IRIS listeners live with a disability. Most are seniors living on a fixed income. Though our listeners contribute as much as they can, the daily costs of transmission, equipment and programming are greater than listener donations alone can sustain.
We are so proud that we continue to provide all IRIS equipment and services to our listeners at no cost to them.
Why Now?
For years, IRIS operations were supported by federal dollars. Like so many organizations, that type of funding no longer exists. But the need for our services is still there – and growing. For the first time, we are funded entirely by contributions. We now look to the communities we serve to keep the Voices of IRIS on the air to over 3,000 listeners each day.
IRIS provides continuous programming 24 hours per day, 365 days per year. 
From around the state, listeners hear IRIS from their homes, hospitals, and living facilities.
Volunteers read from 7 different locations around the state of Iowa.
IRIS provides accessible options for listeners, including custom radio & digital receivers, web stream, podcasts, mobile phones, smart speakers, & mobile devices.
Equipment costs to IRIS range from $33-$335 per listener, depending on location.
Programming cost to IRIS is approximately 13 cents per listener per day.
We are able to keep our services free to all listeners thanks to donors like you. 
What kind of gift would you like to make?
Your gift enables Iowans with disabilities continuous access to current printed news and information. While many of our listeners have visual impairments which prevent reading print materials, others have difficulty simply holding or turning the page. Regardless of the disability, your gift means that we can continue to offer our services and equipment at no cost to them.
Make a secure online donation of any amount using PayPal, Visa, Mastercard, Discover, or American Express.
Make a secure online donation of $30 and sponsor the gift of an IRIS radio or digital receiver to a listener!
Call the IRIS office now to make a donation. We can take your information securely and confidentially.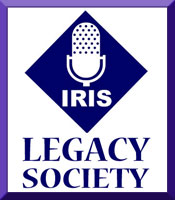 Remember IRIS in your final planning. Your legacy gift is an enduring testament to the future of IRIS.
Underwriting SPonsorships
Support IRIS and tell our listeners about your business or organization.